Bay Area's High Costs Drive Away Some Tech Firms
Jeff Cavins employed many typical Silicon Valley tactics as he tried to grow his new company. The startup Outdoorsy—which helps people rent out their RVs to other travelers—got into a Palo Alto-based accelerator, raised more than $25 million in venture capital and eventually showed hints of success with $150 million in gross sales last year.
This year, he tried something more unusual. He moved the company's 28-person San Francisco headquarters to Austin, Texas, to save money and get closer to customers. He expected to lose employees who would want to stay behind. But nearly everyone, from engineers to marketers, decided to move to Austin, too.
"For employees, it was the cost of living," Mr. Cavins said. "They were sharing studio apartments in San Francisco. Now they can get a two-bedroom condo overlooking the city with a two-car parking garage and a swimming pool."
Punishing Bay Area housing costs are forcing startups and their workers to re-examine the importance of growing in the industry's epicenter. While San Francisco has long tested people's budgets, the city has seen "unprecedented" growth in housing prices recently, according to a city report last week. Residential rents doubled and condo prices quadrupled since 2011, according to the report. Forty-six percent of the region's residents surveyed this year by the Bay Area Council, a business advocacy group, said they were likely to leave the region in the next few years, up from 34% two years ago.
While the Bay Area still boasts the largest inflows of venture capital in the U.S. by a wide margin, some fledgling companies are steering away to hold down costs. Other, more established Bay Area startups are finding they can hire experienced engineers, not just customer-service or sales representatives, more quickly in less expensive markets like Denver, Salt Lake City and Atlanta. Some of San Francisco's most well-known startups, including Slack, Stripe, Gusto and Opendoor, have been looking to grow outside their hometown of San Francisco.
"We're reaching a point in the Bay Area where the financial model of a startup is being tested," said Drew Oetting, a partner at the venture capital firm 8VC. The firm established a service last year for its startups to hire software engineers living near Waterloo, Ontario, which would save the companies money. Mr. Oetting said they initially tried to convince those engineers to move to the Bay Area, but "tons of people didn't want to move to the Bay because they didn't see a life for themselves there."
Even with the cost-of-living pressure, there are few signs of a slowdown in Silicon Valley. Facebook, Cruise and Dropbox in the past year have inked some of the largest office leases in San Francisco's history. (In the downtown building that houses Facebook's new offices, two-bedroom condos start at $3.2 million.) Thousands of new multi-millionaires could be minted if San Francisco-based Uber, Airbnb and Lyft go public within the next two years, potentially putting even more upward pressure on home prices.
Employment growth in the Bay Area has vastly outpaced housing development: Between 1980 and 2015, San Francisco added 1.6 jobs for every housing unit built, while Silicon Valley's San Mateo County added 3.2 jobs for each housing unit during that time frame. By comparison, one housing unit was added for every new job in the U.S. in the same time period. The city's middle class has been squeezed; even its affordable housing stock, such as rent-controlled apartments, are more likely now to be taken up by high-income households, the city says.
The Bay Area cities of San Francisco, Fremont and San Jose made up the top three most-expensive markets in the U.S. in the first half of this year, each with median single-family home prices of $1 million-plus, according to Redfin, an online real estate broker. Redfin itself, which employs engineers in Seattle and San Francisco, is exploring cheaper markets in which to hire engineers.
Network Effects
Few think the Bay Area is close to losing its grip on the tech industry. In the first half of this year, venture capitalists put four times as much money into startups based in the San Francisco and San Jose metro areas than each of the two next-most valuable regions, Boston and New York, according to Pitchbook. Big tech companies for years have located certain operations outside their Bay Area base. Apple announced earlier this year that it would create a second U.S. campus, primarily for customer-support workers, to complement its Silicon Valley hub.
The so-called network effect between tech companies and ambitious employees keeps things humming. Many companies don't want to risk decamping to places where it might be harder to find talented employees, particularly executives who have experience managing fast-growth teams. Many employees don't want to move to cities like Denver or Austin with fewer opportunities to work at hot companies.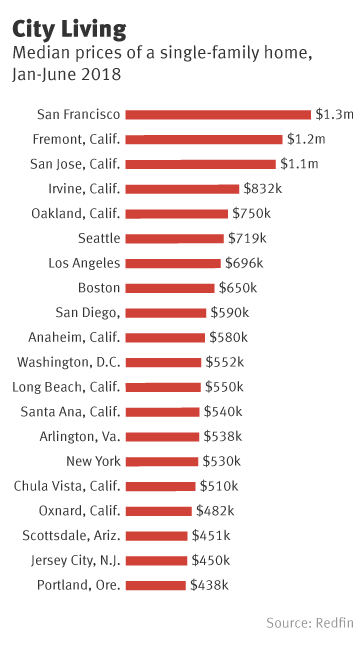 "Tech is volatile. If you lose your job, there's very little else in those markets," said Martha Josephson, who helps companies search for executive hires at the recruiting firm Egon Zehnder.
But a shift might be under way. Venture capitalists say they hear Bay Area executives talking about how to decrease their dependency on the region, and many investors no longer urge their early companies to set up shop there as a condition of their investment. Real estate brokers say more tech companies are asking them to study other markets for growth. "A lot of our [Bay Area] clients are getting to that 200- to 300-person stage and are really scared about scaling beyond that. [They are] having us do due diligence around Utah, Arizona and other markets where they can scale," said Justin Bedecarre, co-founder and CEO of HelloOffice, a commercial real estate brokerage startup.
Mr. Oetting of 8VC added that one of his firm's most successful portfolio companies, Mountain View, Calif.-based Addepar, which builds wealth-management tools, is looking to start hiring software engineers in its Salt Lake City, Utah, satellite office. "You'll start seeing that more," he said. "It's not that a company is leaving the Bay. They're going to say, 'let's look at [growing] headcount elsewhere.'"
Several companies expanding elsewhere say they are looking to widen their talent pool, and not necessarily to lower costs. San Francisco-based Gusto, an enterprise software startup that has raised $170 million, is now hiring more quickly in Denver than its hometown, including several dozen engineers this year.
Opendoor, a San Francisco-based startup using tech to buy and sell homes in suburban markets like Phoenix, announced last month it would open an engineering office in Atlanta. It expects to hire up to 30 engineers there by the end of the year, doubling its expected hiring rate. Ian Wong, Opendoor's chief technology officer, said in an interview the company can hire engineers more quickly in Atlanta than San Francisco. More of his peers are thinking about how to distribute engineering teams across the country, he said. "Cost of living is driving part of the issue with supply and demand of talent. Everyone is thinking about making talent acquisition as a distributed problem. How do we tap into those pools of talent?" he said.
Slack, a San Francisco tech darling, plans to open a large office in Denver, the company recently confirmed. Some employees have asked to relocate due to high costs in the Bay Area, a person close to the company said. Another big name, Stripe, which last week opened a new office in San Francisco's South of Market neighborhood that could fit more than 1,000 employees, also has been considering more offices outside the Bay Area to meet its growth needs, people familiar with the matter said. Stripe and Slack declined to comment.
'Move to Pittsburgh'
Christine Johnson, who is running for San Francisco supervisor to represent the South of Market neighborhood, worries that these are "warning signs" for the Bay Area economy. The problems are deeper than just housing prices, she said. The region has struggled to improve its aging public transportation network, prompting more people to depend on cars and worsening the region's quality of life, said Ms. Johnson, who sat on San Francisco's planning commission and led the San Francisco office of SPUR, an urban policy think tank. "People are starting to be at a breaking point," she said.
Tech firms outside the Bay Area are trying to take advantage of the region's woes. The education-technology startup Duolingo, based in Pittsburgh and valued at $700 million, put up a billboard along San Francisco's U.S. Highway 101 earlier this year that read: "Own a home. Work in tech. Move to Pittsburgh." The first employee who applied after seeing the billboard will join the company this week as a senior user researcher, said Christine Rogers-Raetsch, the company's head of people.
After Dan Hill left his job as Airbnb's director of product earlier this year to launch a Washington, D.C.-based startup that would help people donate to nonprofits, few potential venture investors flinched at the idea that he would leave the Bay Area. "Ten years ago I definitely would have started my next company in San Francisco, but now the location didn't seem as important," he said.
Then there is Outdoorsy. Mr. Cavins, the CEO, said the company settled on Austin as its new headquarters in part because of its artsy vibe and low tax base. Its employees have trickled in from San Francisco over the last six months. It recently hired a Bay Area transplant moving from Airbnb as a product manager. And it is flying out an executive candidate who is now based in San Francisco.
"He's meeting with the team and looking at houses," Mr. Cavins said. "His wife is telling him, 'Let's do it. Let's go.'"
THE TAKEAWAY 
• Housing costs prompt some tech firms to move, hire elsewhere
• Slack, Stripe consider offices outside Bay Area
• Denver, Salt Lake City, Atlanta attract more tech interest
Publication
The Information Mon, 07/30/2018 - 16:11